Trump Threatens Whistleblowers:
"Lawyers for a whistleblower who accused Donald Trump of pressuring Ukraine to intervene in the 2020 election warn that the President's threats pose a grave risk to their client's safety." 1
Whistleblowers Unprotected – To This Day
"As President Trump intensified his public campaign Monday against the whistleblower whose anonymous complaint about the commander in chief helped spark an impeachment inquiry, legal analysts warned the person might soon face a grim reality.
Federal laws offer only limited protection for those in the intelligence community who report wrongdoing — even when they follow all the rules for doing so. Trump and his allies, analysts said, might face few, if any consequences, for outing the whistleblower or otherwise upending the person's career.
"If he wants to destroy this person's life," said whistleblower attorney Bradley P. Moss, "there's not a lot to stop him right now." 2
Whistleblowers: Protectors of the People
When whistleblowers are unprotected, we all are unprotected and we all suffer. As I reported in Legal Reader last year, we the people, face existential threats including the Climate Crisis, Inequality, and Injustice. 3
Nearly 50 years ago I blew the whistle on the Nixon Administration for weakening automotive air pollution standards.
Months later I was fired from EPA under its first (and then 5th) Administrator William D. Ruckelshaus and we have all had to breathe more auto caused air pollution for nearly 50 years. 4
Politicians, however, protect themselves very well.
Reagan appointed Anne Gorsuch Burford to be the 4th EPA Administrator. She continued deregulation and was held in contempt of Congress. But her son is now Trump-appointed Supreme Court Justice Neal Gorsuch.
Reagan then appointed Ruckelshaus to be the 5th EPA Administrator.
Later George W. Bush appointed Christine Todd Whitman to head EPA. She was caught lying to the American people about their safety from air pollution from the September 11 attacks.
Today under Trump, EPA heads Scott Pruitt and Andrew R. Wheeler have taken deregulatory steps to lower already inadequate levels of protections of the people
We the people suffer to this day. See how primarily Republican policies harm us all. 5
Note, I say primarily because President Obama awarded Ruckelshaus the Medal of Freedom after Ruckelshaus endorsed Obama in 2008 and Hillary in 2016 6
Who Will Protect Us Now?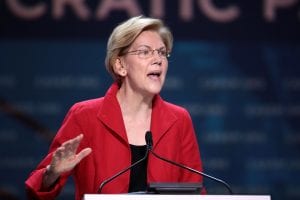 Since 1777, the need to protect Whistleblowers has been recognized by Congress. 7
Senator Elizabeth Warren has an Anti-Corruption and Public Integrity Act that has many needed provisions, but presently lacks a Whistleblower Protection provision. Will she and other Presidential candidates step forward to protect whistleblowers and all of us now?